Eightcap Review
Based in Australia, Eightcap Forex also operates an offshore branch in Vanuatu. This broker provides access to both MetaTrader 4 and 5 platforms, allowing trading on more than 200 financial tools.
This range includes forex pairs, as well as select CFDs on stocks, indices, and commodities. With multi-lingual customer service, Eightcap caters to both novice and seasoned traders. The firm's services are accessible in almost 200 countries, excluding the US.
Eightcap Pros & Cons
Pros
Eightcap showcases an impressive array of over 200 cryptocurrency CFDs for trading. +P

With a mere $100, traders can kick-start their live trading experience, enjoying minimal trading restrictions set by the broker.

The platform offers an ever-growing selection of sought-after CFDs.

Eightcap stands out for its competitive trading costs marked by exceptionally narrow spreads.

The broker supports a comprehensive range of deposit/withdrawal methods and does not levy any fees for withdrawals.
Cons
Joint accounts, mirror trading, and affiliate incentives aren't available with this platform.

There are certain geographical limitations with Eightcap, notably some services being inaccessible in Australia.

While the support team at the broker is adept and responsive, they don't operate during weekends.

The learning materials could be enhanced with an experience-level filtering mechanism and a feature to monitor one's progress.

The available educational videos aren't as abundant as what leading forex brokers provide for novices.
Where Eightcap Shines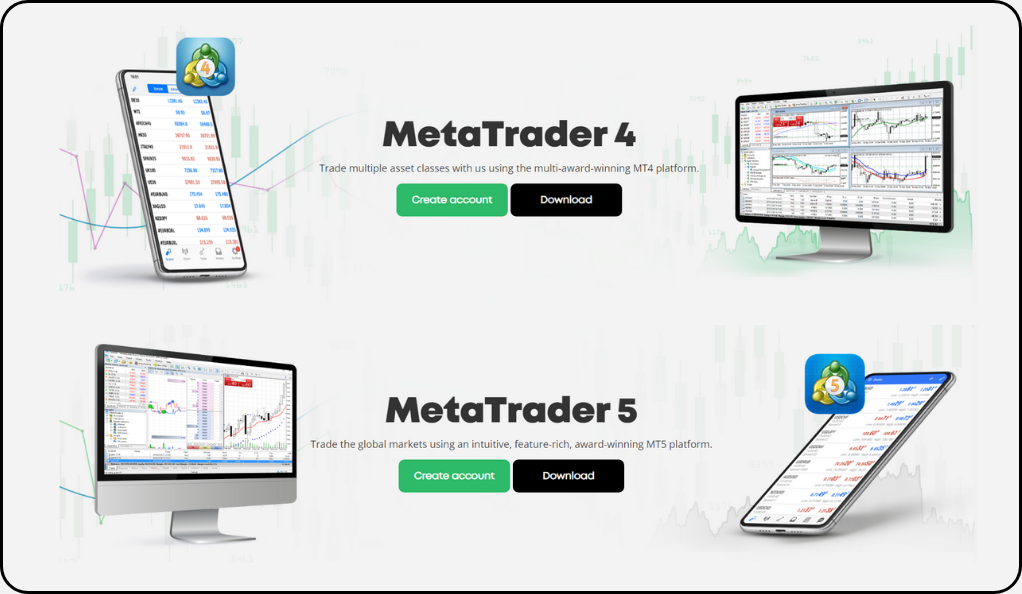 Trading platforms

: At Eightcap, the range of trading platforms will be familiar to expert traders. Not only do they offer the globally renowned retail trading solutions, MetaTrader 4 and MetaTrader 5 – and indeed the web version, but users can also automate their strategies using the Capitalise.ai software. This ensures that clients can choose a platform tailored to their individual trading approach.



Extensive demo account

: Eightcap provides a complimentary demo account accessible through their website. This account equips users with 5,000,000 in virtual currency and mirrors the trading conditions of a live-money account, including an identical price feed. Demo accounts are initially set to expire after 30 days but extensions can be sought if needed, which is beneficial for those who wish to consistently test and tweak their strategies in tandem with real-money trading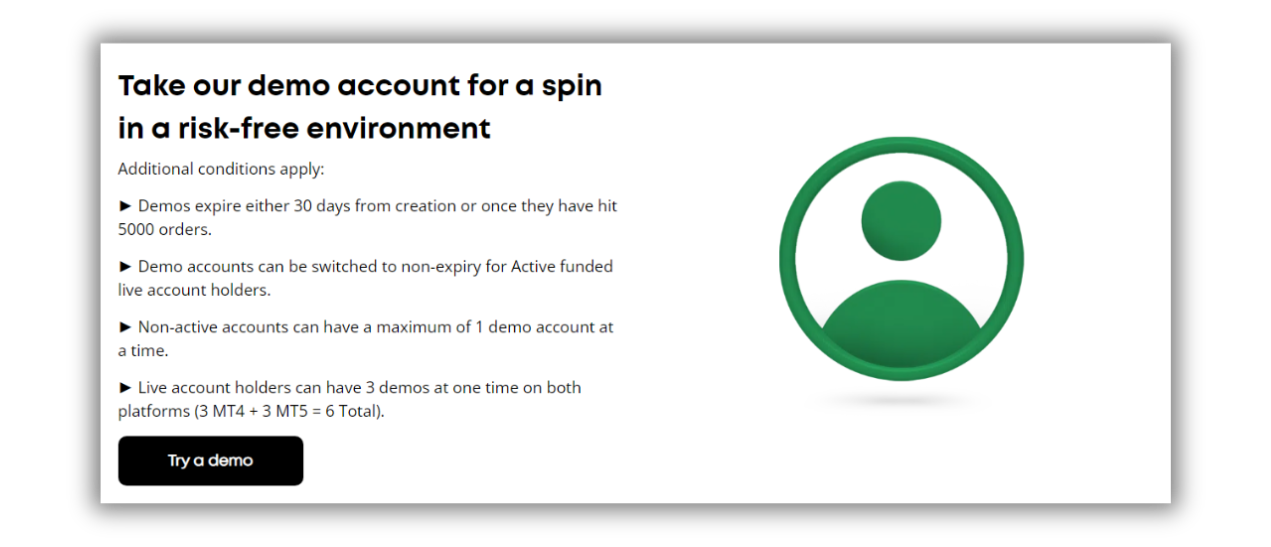 Competitive leverage: The highest leverage offered by Eightcap Pty Ltd stands at 1:30, while for clients with Eightcap Global Ltd, it's 1:500. This complies with regulatory guidelines and mirrors what other trustworthy brokers offer.


Information regarding the margin call procedure is available on the broker's website. Additionally, clients have the option to modify their leverage settings by reaching out to the broker's support team. For those new to trading or with a preference for lower risk, we advise taking this into account.
Where Eightcap Falls Short
Regulation

: Eightcap's subsidiary in Melbourne, Australia operates under the strict regulations of the ASIC. In contrast, its Port Vila, Vanuatu branch is governed with relatively lax oversight by the VFSC. Nevertheless, both divisions ensure a clear separation between client funds and the broker's personal finances.



Negative balance protection

: It's important to mention that this broker doesn't provide negative balance protection, leaving traders vulnerable to potential losses exceeding their account balance during unfavourable market shifts.

App Selection: Without its own distinct mobile app, Eightcap finds it challenging to match up to giants like IG and Saxo Bank. Eightcap is, instead, a MetaTrader-centric broker, offering standard versions of the MT5 app for both iOS and Android, available for download on the Apple App Store and Google Play store, respectively.

What is Eightcap Best For?
Eightcap offers competitive spreads, minimal to zero commissions, and outstanding platforms along with valuable educational resources for its traders. It's therefore a great choice if you want to learn quickly, value the low cost of trading – and if you're happy to focus on the standard MetaTrader app for your trading.
Eightcap at a Glance
Account Opening

4/5

Setting up an account with Eightcap is straightforward and efficient. This process is entirely digital, with most approvals completed within a day – but there is the odd usability quirk in the sign up process.

Depositing and Withdrawing

4.5/5

Deposits at Eightcap come without charges, and most withdrawals are also fee-free. E-wallet solutions are part of the offering. However, only major currencies are available as base account currencies.

Web Trading

3/5

Eightcap offers the MetaTrader 5 web trading platform, MT5 is customizable and boasts more order varieties. Compared to its competitors, it lacks price alerts and two-factor authentication features.

Mobile Trading

3/5

There is no custom mobile app for Eightcap, you're set to use MetaTrader 4. It's intuitive but some features are missing – including MFA.

Research Tools

2/5

Research tools at Eightcap could use enhancement. Trading ideas or fundamental data are absent, but there are commendable technical analysis tools available, such as a strategy tester.

Markets and Products

2.5/5

Forex and CFDs is all that's on offer here, so it depends on your requirements whether Eightcap would be the right platform for you.

Customer Service

4/5

Traders enjoy multilingual customer service from Eightcap, with all of phone, email and live chat available as customer support options.
Detailed Ratings
Trading scope


(3.5/5) Eightcap's primary advantages for forex trading include competitive spreads for major pairs and crosses, as well as compatibility with the widely-used MetaTrader suite for forex trading. The broker also supports trading a select range of CFDs on commodities and indices via the MT4/5 platforms, while share trading is exclusive to MT5.





In January 2022, Eightcap expanded its asset offerings, surpassing 1000 financial instruments. Notable additions are: Zinc (XZNUSD) and Nickel (XNIUSD) available on MT5. The extended CFD selection includes 310 ASX Share CFDs, 100 NASDAQ Share CFDs, 100 NYSE Share CFDs, 105 LSE Share CFDs and 45 German Share CFDs.





Eightcap also caters to different trading intensities, offering both Standard and Raw account types. For those seeking leverage beyond the 30:1 limit set by Eightcap Pty Ltd in Australia, Eightcap Global Ltd in Vanuatu offers leverage up to 500:1.




Withdrawal options


(4/5) Eightcap offers customers a variety of secure methods to both deposit and withdraw funds from their accounts. These include credit and debit card transactions, bank transfers, Skrill, Neteller, PayPal, Worldpay, and crypto wallet transfers.





It's worth noting that bank transfer deposits may take up to three business days to process. Conversely, other payment methods are generally processed instantly. While Eightcap doesn't specify withdrawal durations for each method, most brokers typically process withdrawals within 24 hours.




For all payment modes except crypto and bank transfers, there's a set minimum limit for both deposits and withdrawals. Clients can transact using multiple recognized global currencies, such as GBP, USD, and EUR, as well as the crypto tokens USDT and BTC.





Eightcap charges no transaction fees. However, it's important to remember that bank transfers and cryptocurrency transactions might incur external charges, which are beyond Eightcap's control.



Market research
(2.5/5) Eightcap provides a selection of research materials, presenting daily insights in both text and video forms. However, when compared to top-tier brokers, its research capabilities seem limited.Most of Eightcap's content revolves around daily textual insights from their in-house team, such as the "Trading Week Ahead" series. Additionally, they sporadically upload videos on their YouTube channel, featuring series like "Market Update," "Trade Zone," and content from Eightcap Labs.
Other Eightcap Features You Should Know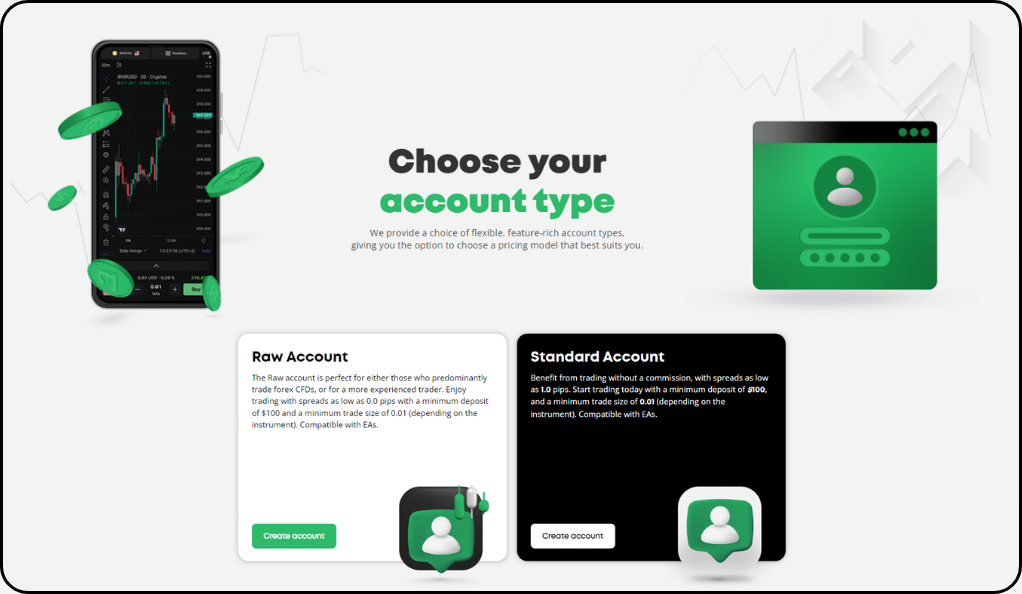 Choice of accounts: EightCap provides two account options: Standard and Raw. Those with a Raw account need to work with higher commission fees but Raw accounts benefit from tighter spreads, beginning at 0.0 pips. On the other hand, Standard accounts do not have trade commissions, but they feature broader spreads, starting at 1.0 pips. Importantly, both account types support full scalping and hedging.

When deciding on an account type, traders should evaluate their trading volume. For those trading at high volumes, an account with tighter spreads—even with commissions—might be more economical. Conversely, for those trading smaller volumes, an account without trade commission fees, albeit with slightly wider spreads, might be a better fit. It's always a good practice to test a broker's offerings using a demo account before transitioning to a live one, especially if you're uncertain about the best fit for your trading approach.


Pricing on Eightcap: Similar to many digital forex brokers, Eightcap earns from client transactions by increasing the dealing spreads relative to what they secure in the wholesale market. This difference is integrated into the broader spreads of the Standard account. However, for Raw accounts that offer tighter spreads, a commission of $3.50 is applied for every trade. For major forex pairs, Eightcap's smallest spread is 1 pip in the Standard account and goes down to 0 pips in the Raw account.
Training: The Eightcap website features a range of training articles crafted by their team of expert analysts. These articles are enriched with diagrams, visuals, and numerous examples to enhance your learning and proficiency. These are straightforward and well-structured, but primarily tailored for beginners. Seasoned traders might already be familiar with much of the content. The 'Fundamentals' explores the essentials of forex trading. This includes introductions to concepts like forex trading, stocks, spread, pips, swap rates, and charts. There is also a MetaTrader Guide for detailed insights.
Conclusion: Is Eightcap Right for You?
In essence, Eightcap functions primarily as a straightforward forex and CFD broker, presenting reasonable minimum spreads across its two account offerings, all while integrating the renowned MetaTrader trading software.
On the bright side, Eightcap supports an impressive leverage ratio of 500:1 if you register with their Vanuatu branch.
However, Eightcap falls behind its rivals in terms of the variety and quantity of available assets. They offer only a select range of shares and commodities, with no options for futures or options trading. If you're looking to explore markets beyond what Eightcap offers, considering an international broker might be a wiser choice.
For those new to the trading scene, the broker provides valuable educational resources. However, a notable drawback is the absence of negative balance protection, a feature many traders deem crucial for financial security.