BDSWiss Review
Introduction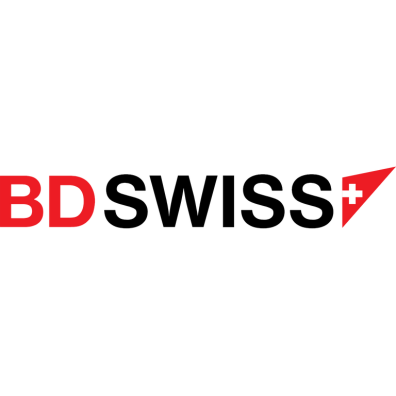 Since launching in 2012, BDSwiss has made a significant mark on the online trading landscape with its diverse portfolio of products and services tailored for various clients.
Boasting over 1.5 million registered accounts and an average monthly trading volume exceeding $84 billion, it serves clients from 186 countries. BDSwiss further distinguishes itself by offering comprehensive educational materials, current market insights, and outstanding customer service.
BDSwiss Pros & Cons
Pros
 

Leading MT4/MT5 trading platforms with a variety of financial instruments.

     

Commission-free and swap-free Islamic accounts available.

     

Free VPS for high-volume traders and daily trading alerts.

     

Comprehensive trading academy and advanced market scanning with Autochartist.

     

Access to live and recorded webinars, free demo accounts, and daily in-house video market analyses.

     

Transparent agency broker with published monthly execution stats.

     

BDSwiss Telegram channel provides trading signals and real-time alerts.

 

RAW account offers lower spreads with a $5,000 deposit requirement. VIPs access a premium Trend Analysis feature showcasing 500 patterns.
Cons
 

No U.S. citizens accepted, FCA bans CFD offers to U.K. due to marketing issues

     

BDSwiss app is basic, but you do get access to MetaTrader.

     

No progress-tracking in beginner education.

     

High 1.6 pip spread on EUR/USD for Classic account and scalping not allowed.

     

Steep 10% inactivity fee after 90 days.

     

$200 minimum deposit, No fixed spread accounts.

 

Lacks FIX API access.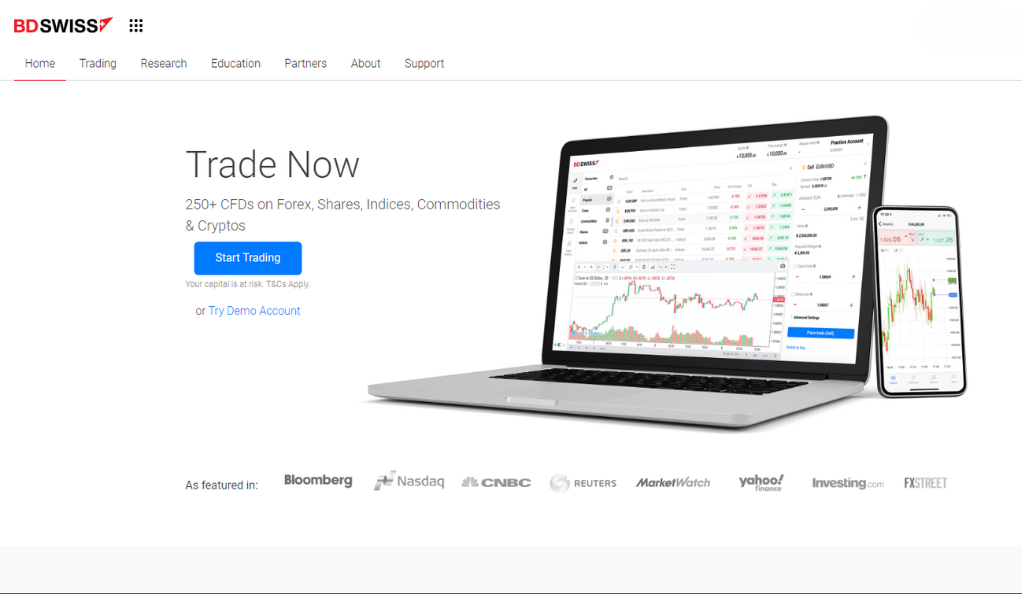 Where BDSwiss Shines
   

Wide list of assets

: BDSwiss provides a diverse range of asset classes for trading, such as Forex, commodities, indices, shares, and cryptocurrencies. For those keen on forex trading, a wide selection of major, minor, and exotic currency pair CFDs awaits. In total, there are over 50 currency pairings to explore.

Additionally, the platform showcases more than five commodity CFDs, which include gold, natural gas, and oil. Investors can also dive into over 140 equity pairs spanning four leading global stock exchanges. Plus, an assortment of indices and cryptocurrency pairings is at your disposal.
High liquidity

: BDSwiss offers traders an optimal trading environment, encompassing a superior liquidity approach. Traders can benefit from incredibly tight spreads, swift execution speeds, and profound liquidity sourced from elite providers for all assets on the platform. Your type of account at BDSwiss has an impact on how much you can trade – but overall, BDSwiss ensures fluid trading.



Top-notch resources

: Clients of BDSwiss can delve into a rich collection of resources. This includes complimentary analytical instruments such as Autochartist, interconnected signals, elite trading alerts, and exclusive webinars. Furthermore, a spectrum of educational content, featuring video courses from foundational concepts to expert-level topics, completes a comprehensive investor environment.



Where BDSwiss Falls Short
Minimum balances

: Raw and VIP account minimum deposits are very high, and though there is a zero-spread account, it's worth noting that it also comes with a very high minimum balance. It may mean that BDSwiss is not the best choice for some beginner traders that are just dipping their toes into trading.



Inactivity fee

: The company's inactivity fee can be significant, especially for those with substantial balances – and it kicks in when an account has been inactive for 90 days. In other words, BDSwiss is really for active traders only and beginner trader risk significant fees if they leave their account inactive.



Regulatory challenges

: In May 2021, the UK FCA flagged BDSwiss for unauthorized marketing methods used by some of its affiliates and social media influencers. Consequently, the broker was instructed to stop its U.K. operations and not market to its residents until certain issues were resolved, according to the FCA's statement. As it stands BDSwiss is not available in the UK and it also draw into question some of the company's businesses practices.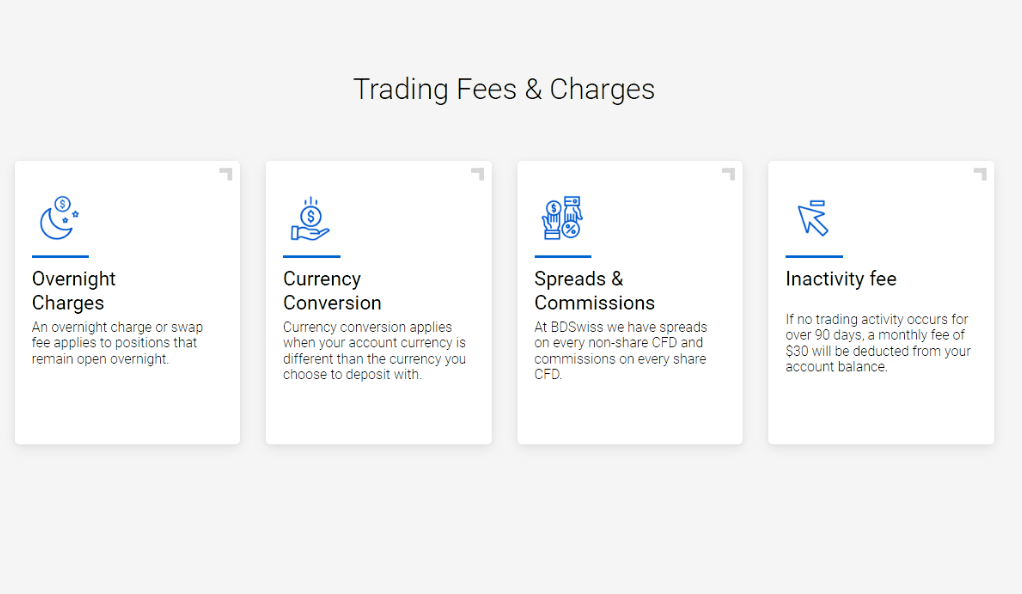 What is BDSwiss Best For?
BDSwiss does a great job of equipping traders with valuable analytical tools and insights for market trends, and catering to diverse trading styles with varied account options and flexible funding methods. New traders benefit from an abundance of educational resources, including video tutorials and expert analyses. Furthermore, BDSwiss emphasizes client satisfaction with its 24/5 multilingual support and even offers dedicated personal account managers to guide users.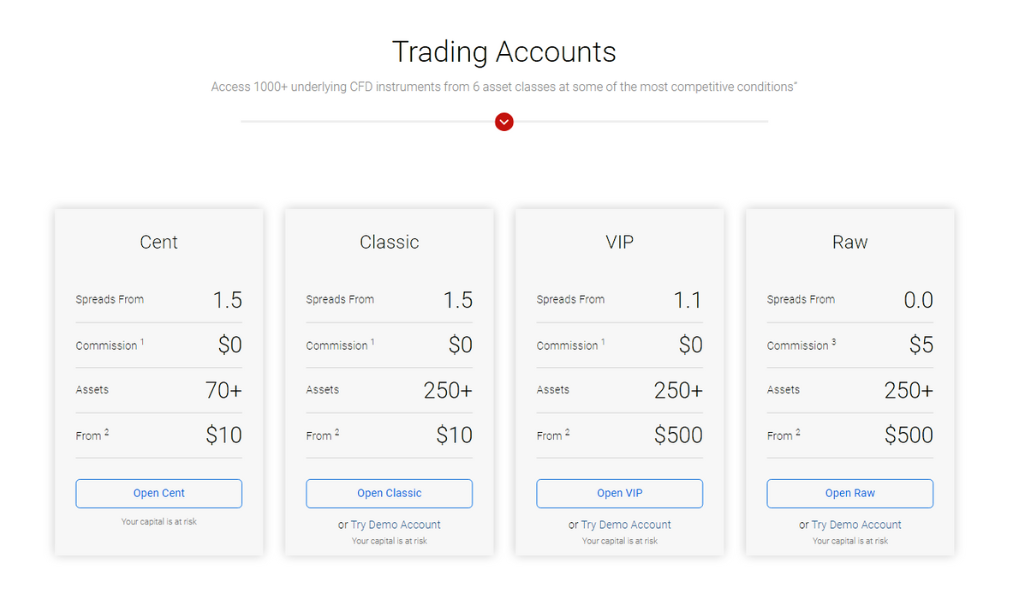 BDSwiss at a Glance
Account Opening

4/5

Aside from choosing which account type best suits you, you'll find the process of setting up a BDSwiss account really straightforward though as mentioned UK-based users can't use BDSwiss.

 

Depositing and Withdrawing

4/5

BDSwiss doesn't levy any fees for deposits into client accounts, and they boast impressive withdrawal speeds, averaging around 5 hours. Withdrawing to credit cards is free of charge, and bank wire transfers are free of EUR 100.

Web Trading

3.5/5

The company offers its proprietary BDSwiss Trader web app which is a great option for beginners. You can also choose to use MetaTrader if that more closely meets your trading needs.

Mobile Trading

4.5/5

The BDSwiss mobile app, which has garnered multiple awards, provides a seamless trading interface. It lets you handle and oversee your trades on the move, offering the same utilities and functionalities found on their desktop platform. MetraTrader is also available.

Research Tools

4/5

Daily Webinars are available and prove beneficial for traders, particularly novices looking to enhance their Forex understanding. The Research & Analysis Section offers valuable insights, including market alerts and trading data.

Markets and Products

3.5/5

BDSwiss offers the opportunity to trade with an extensive selection of over 1000 underlying assets including Indices, Forex, Commodities, and Cryptocurrencies. However assets available depend on your BDSwiss account type.

Customer Service

4/5

The platform offers traders customer support in multiple languages, providing options like phone, email, and live chat for assistance. Support hours are every day of the week – and 9 AM to 11 PM.
Detailed Ratings
Research: (4/5)

BDSwiss excels in their research offerings, presenting a comprehensive and insightful array of resources. They showcase perspectives from 8 distinct professional analysts, each an expert in their respective fields, complemented by constantly updated in-depth market news.





Furthermore, there's a technical analysis segment detailing numerous markets and assets. They also provide an expansive weekly market overview and a daily video preview of market movements. Overall, it's an invaluable opportunity to deepen your understanding of a wide array of tradable assets.

Account options

: (4.5/5) Basic Accounts serve as a standard introductory option for those curious about the offerings. The average EURUSD spread begins at 1.5 pips, with no commissions. You can trade with a minimum lot size of 0.01 and a maximum of 50, utilizing leverage up to 1:400. Despite the absence of commission fees, the spreads might seem high, potentially costing more in the long term.





Raw Spread Accounts offer low spreads, especially suitable for forex traders, where the average EURUSD spread is as low as 0.4 pips, accompanied by a competitive commission fee. Trading ranges from a minimum lot size of 0.1 to a maximum of 50, with a leverage of up to 1:400.





Finally, the website's Black Account is tailored for high-volume traders with premium benefits such as VIP trading alerts, dedicated support, personalized coaching, and a complimentary VPS for qualifying clients. The average EURUSD spread stands at 1.1 pips without any commission fees.



Education (4.5/5):

BDSwiss's commitment to excellence is further evident in their education segment. They host a high-caliber training academy featuring video courses tailored to all skill levels, specifically catering to beginners, intermediates, and advanced traders.





Additionally, they offer an assortment of forex seminars and live educational sessions led by experts, dubbed "trading talks". This ensures a conducive learning environment, catering to individuals of all expertise levels

.
Other BDSwiss Features You Should Know
Choice of accounts

: BDSwiss provides two account options: Standard and Raw. Those with a Raw account need to work with higher commission fees but Raw accounts benefit from tighter spreads, beginning at 0.0 pips. On the other hand, Standard accounts do not have trade commissions, but they feature broader spreads, starting at 1.0 pips. Importantly, both account types support full scalping and hedging.





When deciding on an account type, traders should evaluate their trading volume. For those trading at high volumes, an account with tighter spreads—even with commissions—might be more economical. Conversely, for those trading smaller volumes, an account without trade commission fees, albeit with slightly wider spreads, might be a better fit. It's always a good practice to test a broker's offerings using a demo account before transitioning to a live one, especially if you're uncertain about the best fit for your trading approach.



Risk oversight

: BDSwiss, via the transaction interfaces it offers, grants access to several tools tailored to help you manage your risk. These encompass tools like stop losses, adaptive trailing stops, and profit-taking settings to oversee your ongoing trades.





Additionally, you have the option to establish limit requests to dictate your initiation point for forthcoming transactions. Furthermore, the intermediary issues margin alerts when you trade using leverage, ensuring you continuously monitor your account balance.



Regulatory oversight

: BDSwiss belongs to a global group with main offices in Zug, Switzerland. The BDSwiss Group is licensed and registered across various territories. Such oversight assures that you're transacting with a reliable and safe broker. Nonetheless, it's crucial to recognize the inherent risks associated with online trading.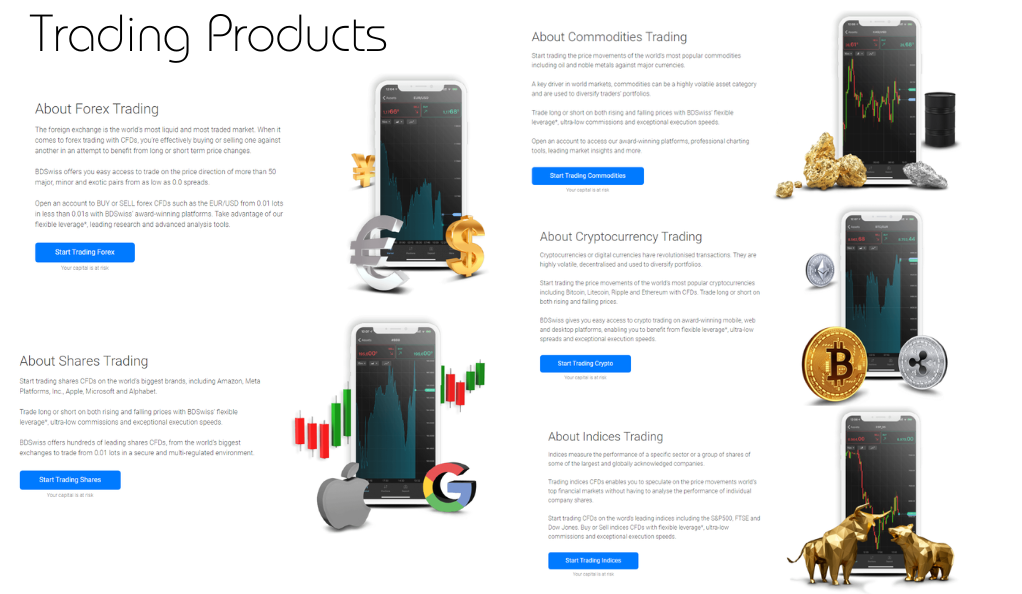 BDS Markets operates under the oversight of the Financial Services Commission (FSC) in Mauritius. BDSwiss Holding Ltd is under the jurisdiction of the Cyprus Securities and Exchange Commission (CySEC). BDSwiss is no longer regulated by the FCA as it no longer operates in the UK.

Being a supervised investment entity, BDSwiss is therefore mandated to comply with all pertinent rules and regulations related to the provision of investment services, carrying out investment activities, and managing regulated markets.
Conclusion: Is BDSwiss Right for You?
BDSwiss is a renowned broker that offers premier access to international markets under optimal trading conditions. With their platform, you can delve into an array of over 250 financial instruments, supported by robust desktop interfaces and versatile mobile applications.

If you're an enthusiast of market analysis will appreciate the top-notch analytical tools provided at no extra cost. Newcomers will benefit from a vast collection of educational resources that shed light on online trading, complemented by complimentary demo accounts.

Overall, regulatory glitches aside, BDSwiss emerges as a commendable option for those keen on manual trading or mirroring the strategies of other traders for a more passive engagement.